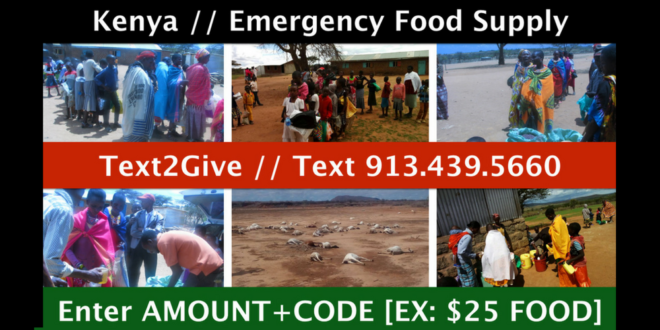 Olathe Wesleyan Church, along with Westview Community Church in Manhattan, KS, is partnered in Kenya with over 31 churches, pastors, and congregations in Lare-Oibor, Mararal, and the greater Samburu region.
If you haven't heard, severe drought is greatly and adversely affecting our friends and ministry partners —
They desperately need our help!
Here's an excerpt from africannews.com [posted 04/03/17]:
Already some 1.3 million Kenyans are going short of food as a result of years of inadequate rainfall. The drought has left pastoral farming communities unable to feed their livestock and often competing to sell animals off before they starve to death. The third consecutive year of drought in the Horn of Africa is causing thirst and hunger, decimating livestock, destroying livelihoods, spreading disease and triggering large scale population movements.
Half of Kenya's 47 counties are affected by drought and the Government has declared a national drought emergency. The food insecure population has more than doubled – in less than a year – and an estimated 350,000 children, pregnant women, and new mothers are acutely malnourished.
Obviously, we're praying for rain to fall, but in the meantime we'd like to once again be proactive as friends and ministry partners. As a result, we're planning to partner with Westview Community by sending financial gifts to purchase emergency food supplies.

Will you help? Here are four ways you can give:
[1] Text2Give
Text 913.439.5660
Enter the AMOUNT + CODE
[Example: $25 FOOD]
[2] QR Code for eGiving
Install a QR code reader app on your smartphone
Read the QR code below
Follow the instructions on your screen

[3] Online giving
Click HERE to donate through OWC's online giving portal

[4] Personal Check
Make checks payable to Olathe Wesleyan Church
Write "Kenya Emergency Food Supply" in the memo line
Deposit check in Offering Box on back wall of Worship Center
Thanks so very much for your prayerful consideration
as we respond to this humanitarian crisis in Kenya!